---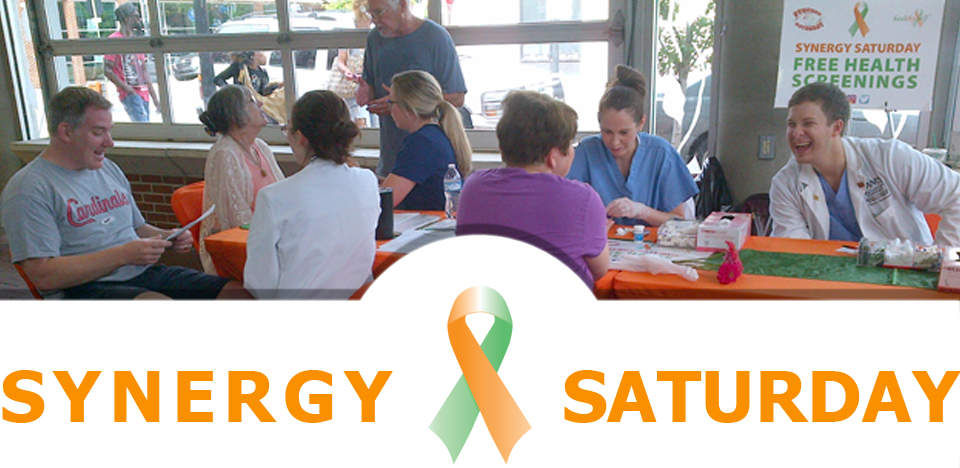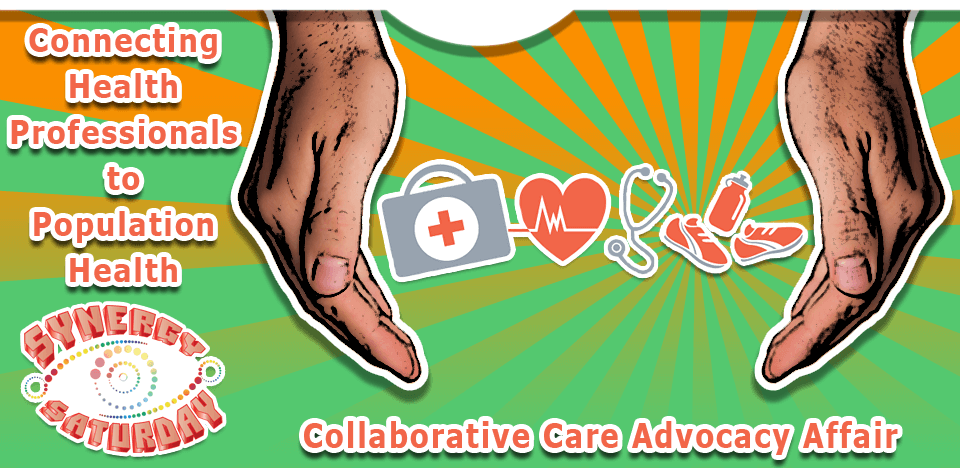 ---
Help Our Mobile Events (HOME)
"For Every $100 Raised, That's A Life Saved."
The Synergy Saturday SCOOP on Screenings, Coverage, Opioids, Outreach and Prevention
SCREENINGS for Population Health...
Synergy Saturday in Summary
Can we expect a better or different outcome from an annual physical exam and/or wellness visit with one super short visit with our Primary Care Physician (PCP), a single set of screening results (that are typically higher due to White Coat Syndrome), and zero change to our daily diet or exercise regiment? If insanity can be explained as doing the same thing repeatedly but expecting a different result, then the opposite can be said of Synergy Saturday's innovative HealthCare solution.

Synergy Saturday screeners take proper time to screen participants, inform them of their numbers, explain their numbers, and encourage follow-up visits to journal their numbers for a better conversation with their once-a-year physical/wellness visit with their respective PCPs. This cost-savings approach to HealthCare immensely improves the outcome of their doctor's visit by empowering the patient with conscious confidence derived from proactive data, or simply put, 'KNOWING THEIR NUMBERS'.

Our inter-professional staff of screeners is comprised of future dentists, nurses, nurse practitioners, pharmacists, physicians, and technicians (pharmacy, radiation, x-ray, etc.). This constitutes our Experiential Learning Opportunity program that partners the non-licensed students with an overseeing licensed practitioner or Preceptor to help educate students on Population Health best practices and validate their time volunteered to accommodate their community service hour requirements for graduation.
​
Synergy Saturday created this efficacious outreach solution through availability, frequency and mobility of its health screening events in order to truly provide no-cost preventive and wellness services … all to the greater good of Population Health. Synergy Saturday is truly a win – win – win Non-Profit Organization, pop-up style health screening event, and sensible HealthCare solution.
Synergy Saturday Interview on KATV Saturday Daybreak and Screening Event Pics
---
COVERAGE (Insurance) of Population Health...
Medicare and Medicaid Related News and Stories
​The Dark Side Of Generic Prescription Drugs

Journalist Katherine Eban says most of the generic medicine being sold in the U.S. is manufactured overseas — sometimes under questionable quality control standards. She talks about instances of fabricated data, sabotaged inspections, and drugs released onto the market before they're ready. Eban's new book is 'Bottle of Lies.' Also, John Powers reviews season 2 of 'Fleabag,' the Amazon series created by and starring Phoebe Waller-Bridge. You may also listen or read, 'The Generic Drugs You're Taking May Not Be As Safe or Effective As You Think.'Dave Davies, Fresh Air. (May 16, 2019). The Dark Side of Generic Prescription Drugs. www.npr.org.
---
​States Sue Drugmakers Over Alleged Generic-Price-Fixing Scheme

Connecticut Attorney General William Tong has a skin condition called rosacea, and he says he takes the antibiotic doxycycline once a day for it.

In 2013, the average market price of doxycycline rose from $20 to $1,829 a year later. That's an increase of over 8,000%.

Tong alleges in a new lawsuit that this kind of price jump is part of an industrywide conspiracy to fix prices. The suit is a whopper — at least 43 states are suing 20 companies, and the document is over 500 pages long. It was filed Friday in the U.S. District Court in Connecticut.​

(Click for full article)Selena Simmons-Duffin, All Things Considered. (May 13, 2019). States Sue Drugmakers Over Alleged Generic-Price-Fixing Scheme. www.npr.org.
---
OPIOID Crisis and Solutions for Population Health...
Synergy Saturday is Your Downtown Event Collection Site for AR Drug Take Back Day
AR Take Back Day is October 26, 2019 at Synergy Saturday.
​
Organize your neighborhood and place of worship to gather medications for drop-off.
Drop off expired, over-prescribed, and unused medications; get a FREE Health Screening; or simply do both. Synergy Saturday is open from 8am - 2pm. AR Prescription Drug Take Back is a significant opportunity and new event for the Little Rock River Market district and downtown area. Drop off times are 10am - 2pm at the Synergy Saturday location.
​
Please spread the word and let anyone and everyone know. Together, let's stop future preventable overdoses and save our environment from
medication disposal through harmful drain or toilet flushing! Arkansas is 2nd nationally for over-prescribing opioids at 114.6 prescriptions per 100 people (the national average is 66.5 prescriptions per 100 people). Help our on-going fight against the current Opioid Overdose Epidemic (198 people die a day from opioid-related drug overdoses)! Thanks for your support.
If you missed our most recent AR Drug Take Back Day and still have prescription medications to dispose, there are more than 200 permanent drop-box locations throughout the state … most available 24 hours a day. To find a location, do the following:
Go to www.artakeback.org
Click the Collection Sites tab
Type in a zip code and distance
Press the Filter tab.
It will show all the locations in your area. Together we can #EndTheOpidemic.​ #ARDrugTakeBackDay
AR Drug Take Back Day - Synergy Saturday
October 27, 2018
Synergy Saturday - AR Drug Take Back Day - 10.27.18

Synergy Saturday wishes to thank all who participated in our hosting of the Arkansas Drug Take Back (10.27.18), in addition to our weekly Free Health Screenings event. It was a huge success! Special thanks to Little Rock Police Department, UAMS College of Pharmacy, UAMS College of Pharmacy APhA-ASP Chapter, UAMS College of Medicine, and UAMS SNMA. #SynergySaturday #ARDrugTakeBack #FreeHealthScreenings #WhiteCoats #EndTheOpidemic

Posted by Synergy Saturday on Thursday, November 1, 2018