---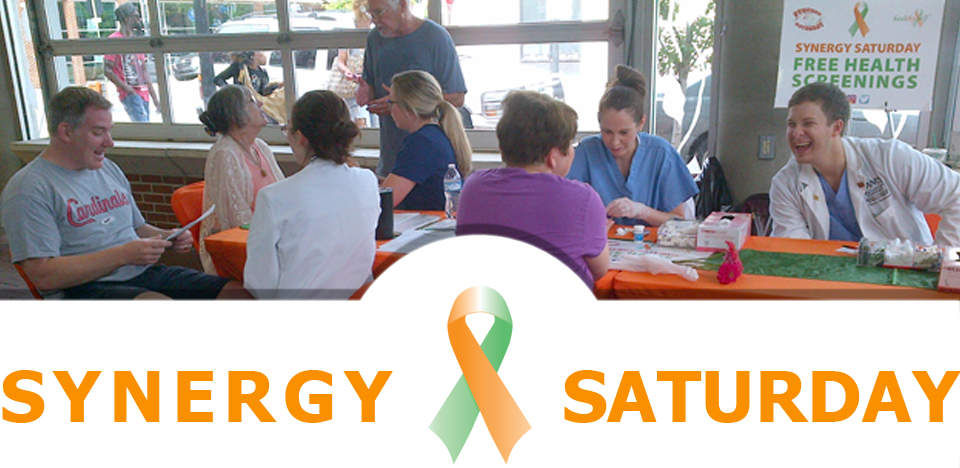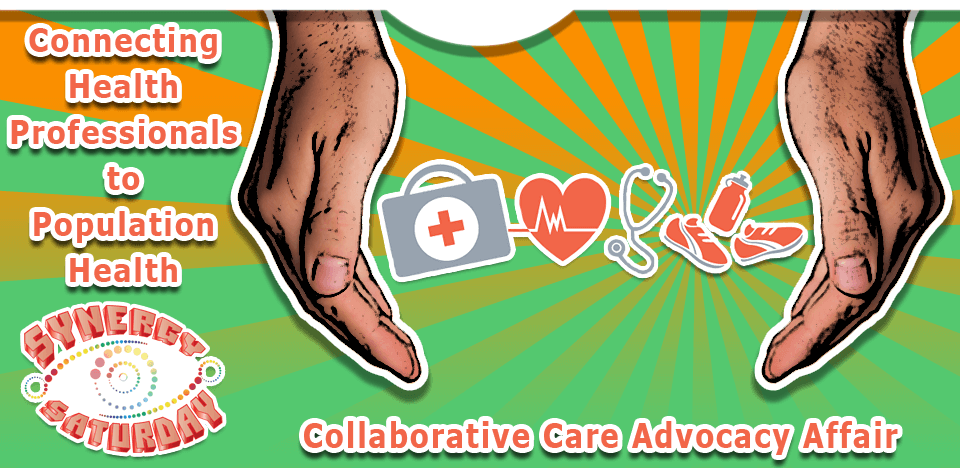 ---
​Synergy Saturday is the 2019 Minority Support Organization of the Year. Larry Freeman, CEO and Founder of Synergy Saturday, is the winner of the 2020 Healthcare Heroes Community Outreach of the Year and 2020 Nonprofit Executive of the Year awards. Synergy Saturday is now a finalist for the Small Business Impact Awards for Community Impact of the Year Award!!!
---
Help Our Mobile Events (HOME)
"For Every $100 Raised, That's A Life Saved."
The Synergy Saturday SCOOP on Screenings, Coverage, Opioids, Outreach and Prevention
SCREENINGS for Population Health...
Synergy Saturday in Summary
Can we expect a better or different outcome from an annual physical exam and/or wellness from one short visit with our Primary Care Physician (PCP), a single set of screening results (that are typically higher due to White Coat Hypertension Syndrome), and zero change to our daily diet, exercise or lifestyle regiment? If insanity can be explained as doing the same thing repeatedly but expecting a different result, then the opposite can be said of Synergy Saturday's innovative HealthCare solution.

Synergy Saturday screeners take proper time to screen participants, inform them of their numbers, explain the relevance of their numbers, and encourage follow-up visits to journal their numbers for a better conversation with their once-a-year or annual physical/wellness visit with their respective PCPs. This cost-savings approach to HealthCare immensely improves the outcome of their doctor's visit by empowering the patient with conscious confidence derived from proactive data, or simply put, 'KNOWING THEIR NUMBERS'.

Our inter-professional staff of screeners is comprised of future dentists, nurses, nurse practitioners, pharmacists, physicians, and technicians (pharmacy, radiation, x-ray, etc.). This constitutes our Experiential Learning Opportunity program that partners the non-licensed students with an overseeing licensed practitioner or Preceptor to help educate students on Population Health best practices and validate their time volunteered to accommodate their community service hour requirements for graduation.
​
Synergy Saturday created this efficacious outreach solution through availability, frequency and mobility of its health screening events in order to truly provide no-cost preventive and wellness services … all to the greater good of Population Health. Synergy Saturday is truly a win – win – win Non-Profit Organization, pop-up style health screening event, and sensible HealthCare solution.
Accolades, Interviews and Photos
---
COVERAGE (Insurance) of Population Health...
Health Insurance Coverage of Arkansas Population
Employer (Group) - 42% (1,208,600)
Non-Group (Individual) - 6% (183,200)
​Medicaid (Community & State) - 27% (784,600)
​​Medicare - 16% (450,700)​
Other Public (Military) - 2% (49,700)
​Uninsured - 8% (233,100)

Henry J Kaiser Family Foundation, 2017 report year. Health Insurance Coverage of the Total Population.

This data shows that Arkansas is not a retirement state, but rather a vibrant working-class economy, which is diverse and growing!!!
---
Your Synergy Saturday Free Health Screenings Tracker is Here!!!
Your blood pressure naturally fluctuates and varies. Getting an average from several screening tests obtained over a span of days under similar conditions is the most accurate way to determine your true blood pressure rate. Measuring your blood pressure consistently and regularly is a sure way to better manage your health.
Often in a clinical setting, such as a doctor's office or hospital, people experience "White Coat Hypertension", which is a syndrome that results in elevated rates, and is associated with the white coats that health professionals wear. This is why Synergy Saturday now provides pop-up style screening events that are comparable to your living situations and help you feel relaxed in a fun environment. The frequency of our events, plus pleasant experiences from our events, work to humanize healthCARE providers beyond the white coat uniforms they professionally adorn. This helps to provide more normal rates with a professional reading and to thwart White Coat Hypertension syndrome.
In our weekly efforts to educate, inform and empower participating communities on the importance of knowing and understanding your screening numbers, we provide educational half-sheet handouts to document your essential screenings rates: blood glucose (sugar), blood pressure and pulse/heart. We ask of you to keep those slips to journal your numbers in order to have a more productive conversation with your Primary Care Physician and to guide with dietary and lifestyle adjustments and changes as you embarked your new healthcare journey.
Now, we are taking your documentation to the next level with our new Synergy Saturday Health Screenings Tracker! You can easily input your results from our weekly screenings directly into your NEW personal tracker for the following benefits:
Estimated A1c percentage
Simplified Microsoft Excel tracker with up to 104 entries
Always know your calculated averages for blood pressure, blood sugar (glucose), and heart rates
One location for tracking data of blood pressure, blood sugar (glucose), and heart rates
An easy-to-read-and-understand full-color chart that displays your rates and trend lines from your data
Printable worksheets for both screening data and screening chart
Can be shared with your Primary Care Physician (PCP) or Nurse Practitioner or Health Care Team
Empowerment for personal healthcare management
Review the following screen shot examples below, then click the Download File link to get and begin using your FREE tracker today!
---
Medicare and Medicaid Related News and Stories
​Medicaid insurer told it must refund $12.3M; state, consumers to be the recipients

An insurer participating in the Arkansas Works Medicaid program was required to refund $12.3 million to the federal government, state and consumers after collecting too much in premiums compared with what it spent on claims, according to federal reports.

According to the reports by the U.S. Department of Health and Human Services' Centers for Medicare and Medicaid Services, St. Louis-based Centene collected $983 million in premiums for its plans covering Arkansas Works enrollees and other consumers in the state from 2016-18, but spent just $756 million of that on medical care and other health-related expenses. (

Full story

)

Andy Davis, AR Democrat-Gazette Metro. (October 27, 2019). Medicaid insurer told it must refund $12.3M. www.arkansasonline.com.
---
​The Dark Side Of Generic Prescription Drugs

Journalist Katherine Eban says most of the generic medicine being sold in the U.S. is manufactured overseas — sometimes under questionable quality control standards. She talks about instances of fabricated data, sabotaged inspections, and drugs released onto the market before they're ready. Eban's new book is 'Bottle of Lies.' Also, John Powers reviews season 2 of 'Fleabag,' the Amazon series created by and starring Phoebe Waller-Bridge. You may also listen or read, 'The Generic Drugs You're Taking May Not Be As Safe or Effective As You Think.'Dave Davies, Fresh Air. (May 16, 2019). The Dark Side of Generic Prescription Drugs. www.npr.org.
---
OPIOID Crisis and Solutions for Population Health...
Synergy Saturday is Your Downtown Event Collection Site for AR Drug Take Back Day
AR Take Back Day is April 25, 2020 at Synergy Saturday.
​
Organize your neighborhood and place of worship to gather medications for drop-off.
Drop off expired, over-prescribed, and unused medications; get a FREE Health Screening; or simply do both. Synergy Saturday is open from 8am - 2pm. AR Prescription Drug Take Back is a significant opportunity and new event for the Little Rock River Market district and downtown area. Drop off times are 10am - 2pm at the Synergy Saturday location.
​
Please spread the word and let anyone and everyone know. Together, let's stop future preventable overdoses and save our environment from
medication disposal through harmful drain or toilet flushing! Arkansas is 2nd nationally for over-prescribing opioids at 114.6 prescriptions per 100 people (the national average is 66.5 prescriptions per 100 people). Help our on-going fight against the current Opioid Overdose Epidemic (198 people die a day from opioid-related drug overdoses)! Thanks for your support.
If you missed our most recent AR Drug Take Back Day and still have prescription medications to dispose, there are more than 200 permanent drop-box locations throughout the state … most available 24 hours a day. To find a location, do the following:
Go to www.artakeback.org
Click the Collection Sites tab
Type in a zip code and distance
Press the Filter tab.
It will show all the locations in your area. Together we can #EndTheOpidemic.​ #ARDrugTakeBackDay
AR Drug Take Back Day - Synergy Saturday
October 26, 2019

Synergy Saturday - AR Drug Take Back Day - 10.26.19

Synergy Saturday wishes to thank all who participated in our hosting of the Arkansas Drug Take Back Day (10.26.19), in addition to our weekly Free Health Screenings event. It was a huge success with both our Take Back and Screenings! Our Free Health Screenings now total 2,438 for the year. Special thanks to Little Rock Police Department, UAMS College of Pharmacy, UAMS College of Pharmacy SNPhA Chapter and ASU College of Nursing. Thank you for your donation participation and willingness to take personal action on behalf of your community. Next date: Saturday, April 25, 2020. http://www.SynergySaturday.com #SynergySaturday #FreeHealthScreenings #WhiteCoats #SaveLives #healthyself #DrawingForDonations #MHSU #MobileHealthScreeningUnit #FUNctionalHealthCARE #CollaborativeCARE #EndTheOpidemic #ARDrugTakeBackDay #LoveLittleRock #LRChamber #LRRiverMarket

Posted by Synergy Saturday on Sunday, October 27, 2019

AR Drug Take Back Day - Synergy Saturday
April 27, 2019

Synergy Saturday - AR Drug Take Back Day - 04.27.19

Our AR Drug Take Back Day at Synergy Saturday was a huge success!!! Thank you Central AR for your donation participation and willingness to take personal action on behalf of your community. Next date: Oct. 26, 2019. #SynergySaturday #FreeHealthScreenings #SaveLives #FUNctionalHealthCARE #healthyself #WhiteCoats #ARDrugTakeBackDay #EndTheOpidemic #LRRiverMarket

Posted by Synergy Saturday on Saturday, May 4, 2019