What Is Synergy?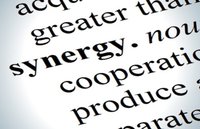 ---
Example of Synergy
Synergy In Action For Health and Wealth Of Communities ... Synergy Saturday Solution
Our Campaigns
Our Awareness Ribbon
Our Vision
Our Mission
Our Goals
"Blood pressure is one of the most important screenings because high blood pressure usually has no symptoms so it can't be detected without being measured. High blood pressure greatly increases your risk of heart disease and stroke."
--- SOURCE: AMERICAN HEALTH ASSOCIATION, INC.
Our Objectives
Positive Program Outcomes and Free Health Screening Benefits
Our Brief History
"Few people with a big idea have big money. Few people with big money have a big idea. Need is the seed of common interests that yield uncommon results!"
--- Larry Freeman, Synergy Saturday, Inc. and LAF Productions, Inc.
Synergy Saturday FREE Health Screenings Results
Help Us Raise Awareness and Donations. Buy a Synergy Saturday T-Shirt.
Awakening HEALTHCARE to a Conscious CARE of HEALTH
Conquering Health Scare Through Collaborative Health Care​